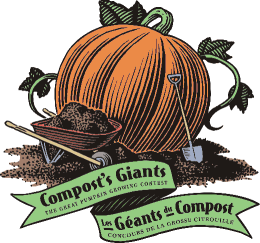 COMPOST'S GIANTS
The 18th Annual Great Pumpkin Growing Contest
Get ready to GROW!
Everyone needs a hobby. Why not take this one on and become part of a friendly competition?
As a participant in this year's contest, you will join an enthusiastic and growing crowd of composters whose objective is to Grow 'em Big with Compost! The heaviest pumpkin at the time of weigh-in will be this year's national champion of the pumpkin patch!
As the winner, you will receive bragging rights as well as $500 to donate to a horticultural initiative in your area. You will also receive a complementary registration to The Compost Council of Canada's National Conference in 2015.
In addition to these rules and regulations, your sign-up kit provides you with an excellent source of websites and tips to learn about the fine art of pumpkin growing. This year we will once again be providing seeds of "Dill's Atlantic Giant" with our starter packages. By popular demand, the packages will be from pumpkins 1000 lbs +! That means they only have two seeds per package, but your chances of growing impressive pumpkins will be very high…
Weigh-in is scheduled for Friday October 4, 2019.
The Compost Council of Canada is the national non-profit, member-driven organization dedicated to advocating and advancing organics residuals recycling and compost use. The Council serves as the central resource and network for the compost and organics recycling industry in Canada and, through its members, contributes to the environmental sustainability of the communities in which they operate.